Connect Your Social Channels
How To Connect Your Social Channels
| | | | | | |
| --- | --- | --- | --- | --- | --- |
| | | | | | |
Overview Description

The resources below will help you make sure your business' social accounts are ready for authorization.
Converting to an Instagram Business Account
A business profile on Instagram helps your customers connect to your business by providing new contact options and analytics. If you haven't converted your Instagram from a personal account to a business account, or you're not sure which one you have, learn how to convert to an Instagram Business Profile here.
Linking Your Instagram Account to Your Facebook Page
In order to access your Instagram account, we'll need to make sure it's properly linked to your business' Facebook Page. If you're not sure how to link your Instagram account to a Facebook Page that you manage, learn how to connect them here.
Connecting Facebook Pages

For DGTLsuite to manage your Facebook Page and Instagram account, you'll need to connect a personal Facebook account with admin privileges to the page. You only need to grant access to the pages you want managed, and to guarantee success, leave all requested permissions enabled.
After Logging in, navigate to Account in the menu located at the top right corner of DGTLsuite.


The User Profile in the upper
right corner allows for quick access to your account, display themes and the ability to
log out.

The Business tab manages your business account details, connected digital platforms,
and allows Admins to add or edit user accounts.
Within the Connected Accounts tab, users can view digital channels authenticated
through the software, managed digital accounts and "Disable the Page" with the sliding toggle. To connect a social account, select the "Add..." link under the desired social channel: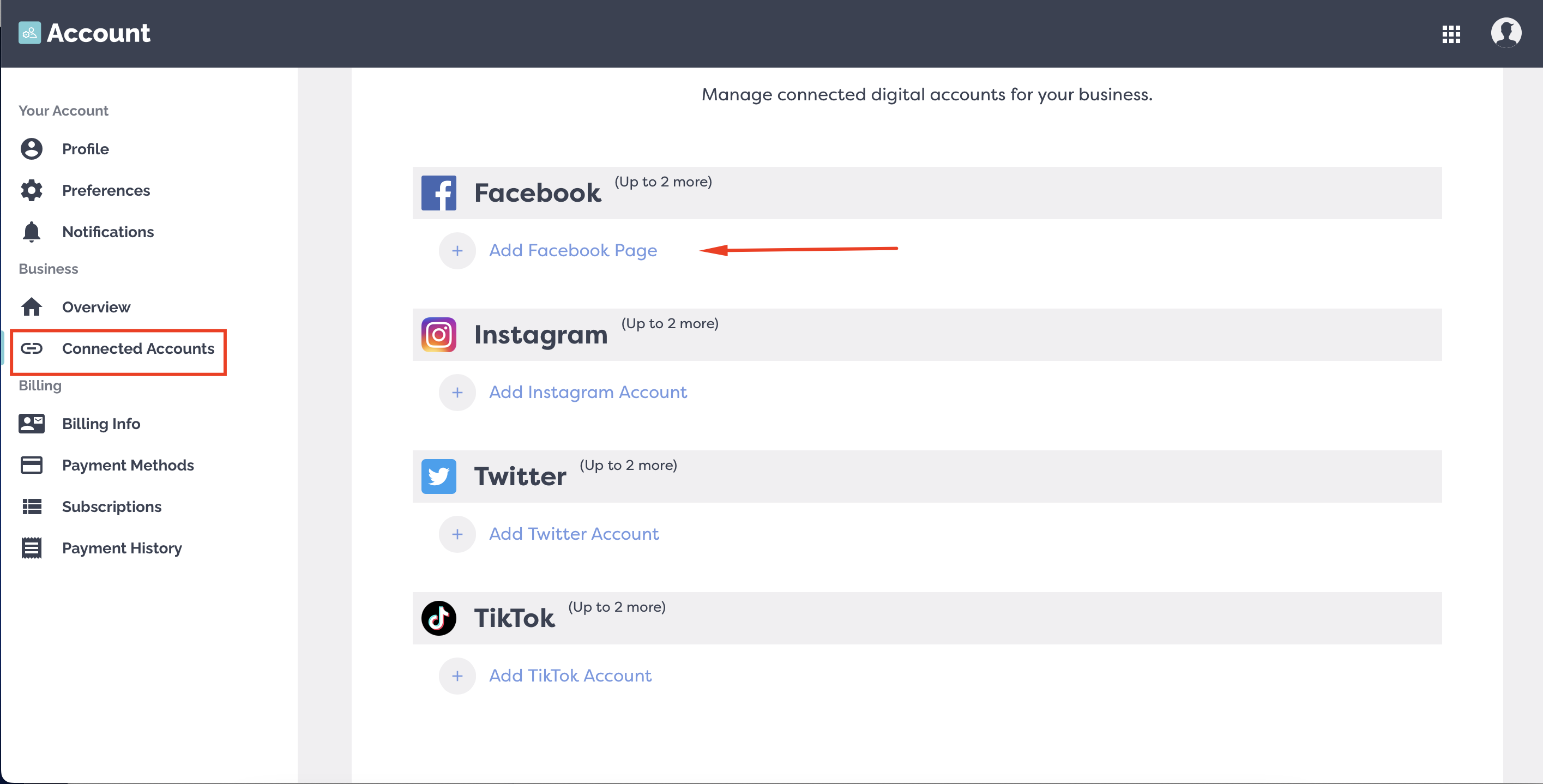 For DGTLsuite to manage your social accounts, you'll need to connect the appropriate account above and grant the requested permissions.
Need more help?

Get in touch
here
on our knowledge base by making an account and submitting a ticket. We'll try to get back to you within two business days! You can also always mention or DM us on social media.
Related Articles

Invite your team and set up permissions

How to add a user and apply user permissions Every business needs a solid team! With DGTLsuite you can add your folks and apply permissions based on how your team will be using the tool. For user permission level definitions, go here. Adding your ...

User Permissions

User Permissions It's important to know what permissions your individual team members have. DGTLsuite has a robust set of permissions to give you maximum versatility in your team setup. Please note the following User permission levels. Content ...

Define your business branding

How to set up your business brand DGTLsuite let's up update the look of your interface with your business branding! You simply need to upload your business logo. How to update your business logo Need more help? Get in touch here on our knowledge ...