Introduction to the Queue View
Understanding the Queue View
Your main view when going to look at content is your Queue View, understanding it will give you all general information you need on the fly.
What is the Queue View

When you navigate to the
Content Page
, you'll be able to see all the content on your currently selected client. After the client has gone through the approval process, our team will un-assign you from the task and your queue will clear the completed content draft requests from your view. This will also remove them from your "Assigned To Me" Widget on the dashboard.
Your view is automatically filtered to only show content assigned to you. Each content draft request is grouped by platform. If you'd like to switch which client you are viewing you may do so using the dropdown in the top left-hand corner where their name and logo are.
If you need to do a search for a current or past piece, use the search bar at the top of the screen, by typing in keywords associated with the piece you'd like you can filter to that piece.

How to filter content

If you are only wanting to search for specific pieces of content you may click on the three horizontal lines in the top right-hand corner in order to open up the CDR filter. Using this you may specify several different parameters, as well as if you want to filter only by the current client or by all available to you.

These selections persist even when changing pages, to return your view to a normal unfiltered one you must re-open this menu and deselect those options.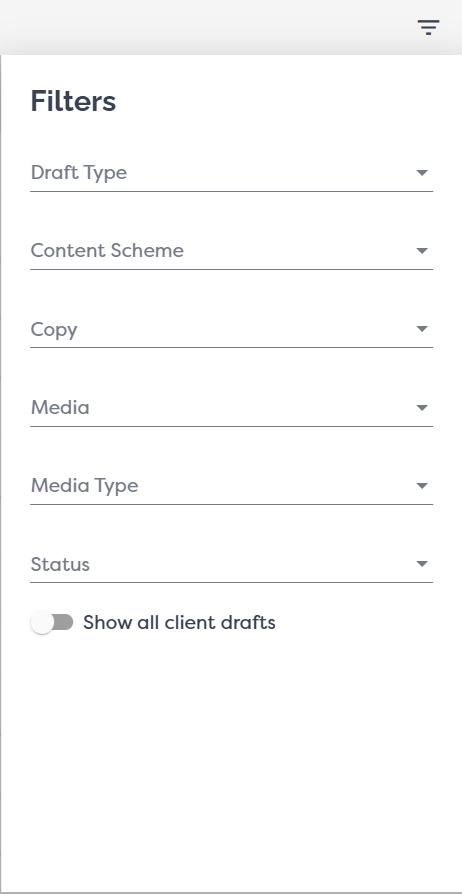 Related Articles

Understanding Create: The Dashboard

Introduction to the Dashboard When you log into Create you'll be welcomed with your user dashboard. This is the high-level overview of all activities in Create and the information is separated into widgets. To view a full walkthrough demo of the ...

Navigating The Dynamic and Static Workspaces

Navigating Your Workspaces The Dynamic Workspace allows for the management of Content details and information and is your general source of communication and updates. Introduction to the Dynamic Workspace Upon clicking one of the assigned content ...

Advanced Library Features

Core actions of the Create Library Find out how to use granular actions in the Create library, manage permissions, view the old content, and control access. How to open a book The Library holds all of your files as books within a shared space, if you ...

Scheduling and Publishing Content

How to Schedule Your Social Media Posts A consistent social media content calendar will keep you organized and ensure you create a good amount of posts in advance for all your upcoming social media marketing campaigns. There never is a "one size fits ...

Understanding Create: The Library

Intro to and Managing the Create Library Find out what the Create Library is and how to manage/upload content to it for future or current use. What is the Library? The Library acts as a shared assets folder where you can upload any images, graphics, ...