Working on Content - The Brand Tab
What is the Brand Tab
The Brand Tab contains submitted creative briefs and relevant company info
Description of the Brand Tab
The Brand tab holds your submitted "Creative Brief" with design preferences and other brand details.
Notes can be added by anyone at any time and will appear at the bottom of this tab. Be Aware, these notes are visible to all who work on your content!
If this tab is blank, it means you have not submitted any brand details within their DGTL Account profile yet.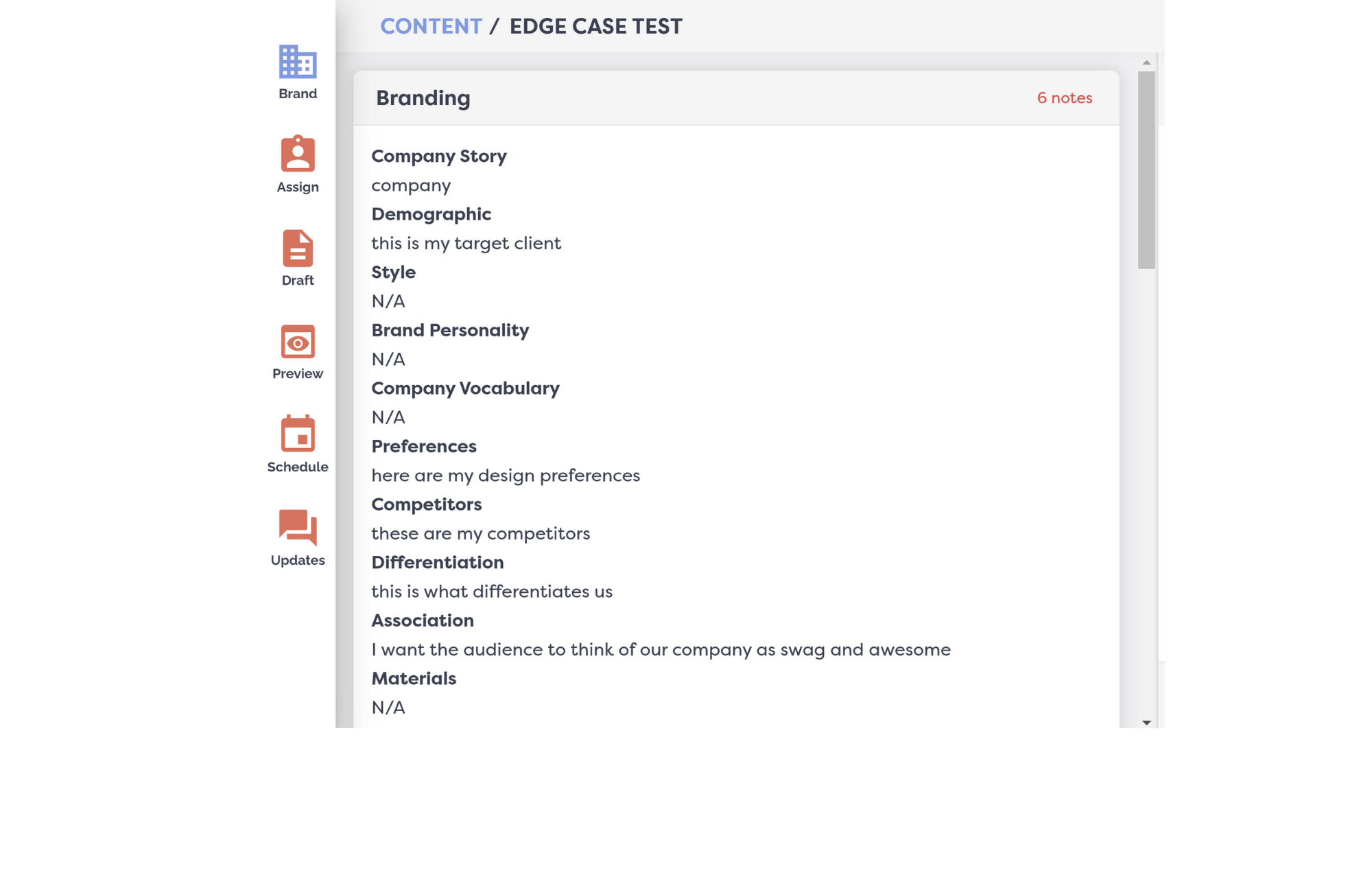 Related Articles

Scheduling and Publishing Content

How to Schedule Your Social Media Posts A consistent social media content calendar will keep you organized and ensure you create a good amount of posts in advance for all your upcoming social media marketing campaigns. There never is a "one size fits ...

How to Create an Agency Content Draft

Creating Agency Drafts and Their Limits When you want a creative agency to work on content on your behalf you will have to turn it into an Agency Request. This may come with limits to the ammount of requests you can submit. How to Start a Content ...

How to Set Post Type and Upload Content

Post Type and Uploading Content With each piece of content the type of media must be selected and content uploaded. Selecting Post TypeWhen working on a new Content Draft determine what kind of post it will be, Photo, Carousel, Call to action, Video, ...

Account - Preferences Tab

Within the Preferences tab of your account, your display and preferred timezone can be edited by selecting their corresponding dropdowns. You may also input a phone number to be used for text notifications and can change this at any time if you ...

Account - Notifications Tab

Within the Notifications tab, users can choose which actions to receive notifications for and the option to opt-out of text notifications. By selecting the different options you can change the requirements for being notified about updates as well as ...